Thai QR Payment is available today!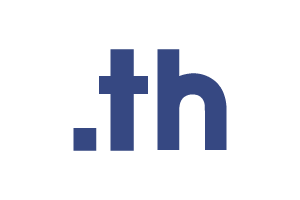 Domain Name Life Cycle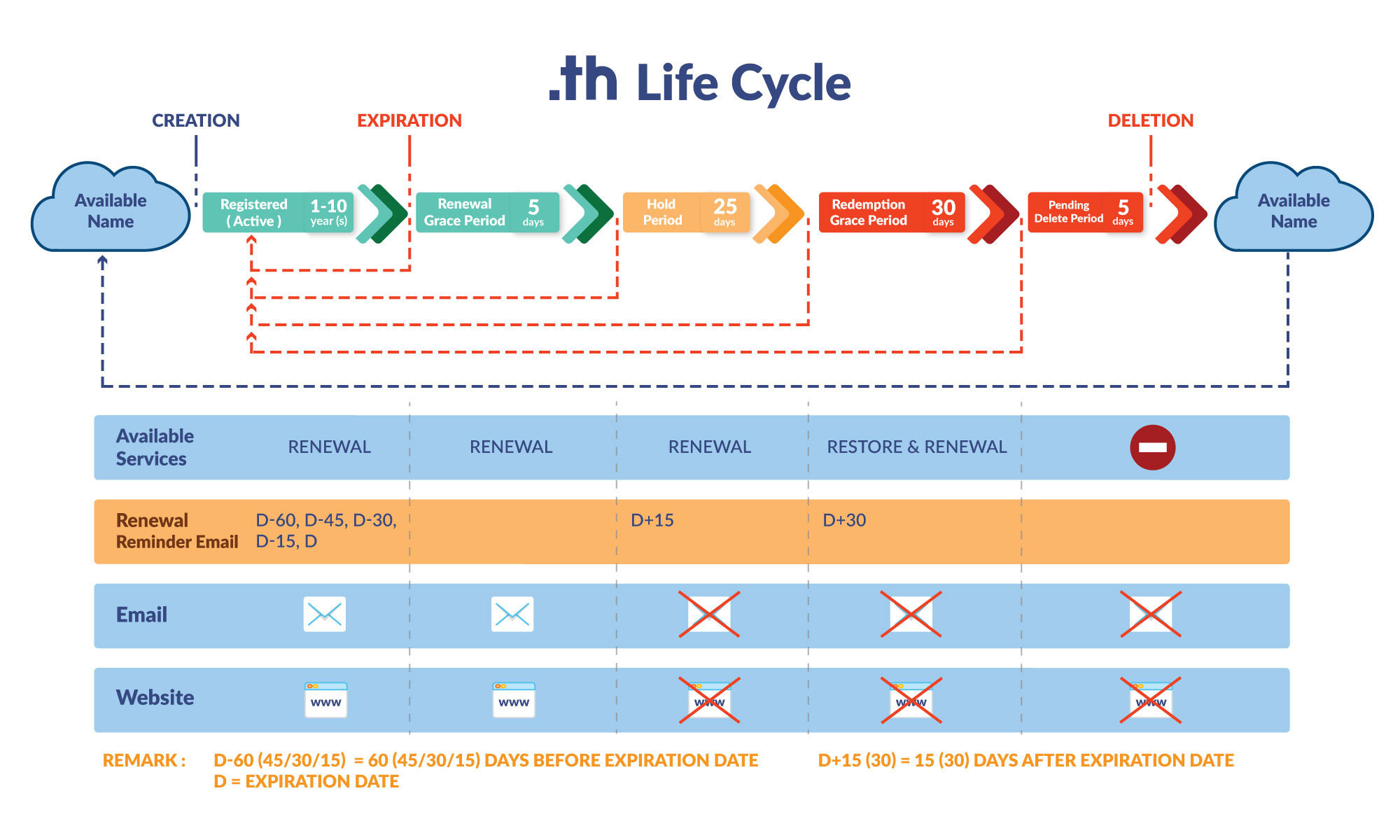 "
Available Name
A domain name is available as long as it has not been registered as a domain name by any other person (or it is listed as an Available Domain Name). After a user has chosen an available name they can proceed to submit a domain name registration request. [Click here to search available names.]
Registered Period
During the time a domain has been registered in the Domain Name System (DNS), no one is permitted to register the same name. Domain names can be registered and its registration can be renewed for a minimum of one (1) year and a maximum ten (10) years. Users can renew a domain name at any time, and it is advisable to proceed before the registration expiry date to maintain the registration. A registered domain name will have ACTIVE status when listed in the WHOIS database, beginning from the registration date until the expiry date. If a domain name is renewed during this period, it will maintain its ACTIVE status.
Renewal Grace Period (5 days)
If a domain name is not renewed before its expiry date, its domain status will be changed to EXPIRED the day after the expiry date, and the domain name life cycle will enter a Renewal Grace Period of 5 days. During this period, the domain name is temporarily auto-renewed to provide grace time for users to proceed with their domain name renewal and they are still able to use the domain name.
Hold Period (25 days)
If a domain name is not renewed before the deadline of the renewal grace period, the following day the Registrar will put the domain name on hold for a period of 25 days (Registrar Hold). During this period, the domain name will be unavailable temporarily as it has been removed from the zone file, resulting in unavailable access to the domain name website, email service, etc. Users can Un-hold the domain name themselves in the Domain Name Management System with no additional charge, but the domain name renewal must be completed quickly before this Registrar Hold period ends. Once the domain name is renewed, the status of the domain name will be Active, and it will be available as usual.
Redemption Grace Period (30 days)
If a domain name is not renewed before the given grace time deadline and hold period, the Registrar will send a delete command to the registry operator the following day after this period. The registry operator will then prepare to delete the domain name, but still provide an additional 30-day grace period for restoration of the domain name. During this period, users still hold rights over the domain name and are able to renew its registration; however, they will still be subject to a redemption fee in addition to the renewal fee.
Pending Deletion Period (5 days)
The registration of a domain name that is not renewed or restored within the Redemption Grace Period deadline will enter into the deletion process to be permanently removed from the registry database, which will be completed within five (5) days. During this period, it is not possible to restore, renew nor register the domain name until it is released and made available as a name ready for re-registration.
"
.TH support team is available at (+66) 0 2105 4007